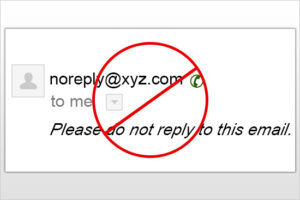 Have you ever received an email, and wanted to respond to it, only to find out that it was sent from a "no reply" address?
Have you ever received email from a sender you didn't recognize and clicked on a link in it, only to discover that doing so launched a malicious virus?
Have you ever received an email that turned out to be a scam, or seemed to be from a legitimate business, only to find out that it was a "phishing" email to get to you divulge sensitive personal information?
Have you ever been waiting for an email, only to find that the email program you're using sent it to "spam" – and since you never check your spam file, you thought that it was never sent?
20 years ago, email was seen as a great way to instantly communicate with others, but as with any innovation, there were also dangers.  The 1998 movie "You've Got Mail" portrayed the irony of how two people could converse anonymously online, oblivious to the fact that they were competitive adversaries in the bookstore industry.  And yes, that was 20 years ago!
Fast forward from America On Line over a dial-up phone line to today's cellular smartphones with free email services like Gmail from Google and Hotmail from Microsoft.  And, unlike your home address, you may have a work email, a personal email, an email for an organization you're involved with as a volunteer, and other email address associated with activities you're involved with, and just keeping track of email becomes a chore…not to mention those dangers I mentioned.  And now, while some email providers offer advertisements in their sidebars, you may find that some are embedding advertisements within the emails themselves.
Your school may use email as a way to communicate with parents because of its immediacy and low-cost.  But you still may have those parents who say, "I don't have email."  While that used to be assumed as an indication that parents wanted to receive paper notifications, there was the accompanying danger that the paper communication which took time to prepare, had a production  and delivery cost associated with it, and, even if the student took it home and it made its way out of the backpack, may simply sit on a table under stack of other papers the family received.
So what's "next?"  Texting?  Perhaps.  With your school community, DEFINITELY!  Say goodbye to email to communicate with your school's parent community…and hello to texting.  Your school may utilize an "emergency communication service," allowing your school to send a "text blast" to all parents.  It could be because your school will be closed for the day due to inclement weather, or because of a special preparedness exercise that will be taking place at the school.
But if you post any type of important communication on your school's Web site, then you can send a "shortlink" of the URL where the information is located via a text.
How effective is it?  According to an article posted on ezinearticles.com, "Fewer than 20% of email messages are opened. Within 15 minutes of sending a text blast, over 95% of your subscribers will have read the message" (Article Source: http://EzineArticles.com/3991612)…and that was in 2010.
More and more parents entering your school today are tech savvy, want immediate access to information, want ways to pay for their financial obligations online, and, if you want them to interact with your school, your school's Web site needs to be responsive and interactive.  They're even more apt to respond to a text than they are to an email.  You might even have a parent change their preferred email address, while they're not as apt to change their mobile phone number.  When you consider that you can also receive texts on tablets which have dataplans associated with them, then email may eventually share the same esteem that "snail mail" does today.
Here's the caveat – it's "opt-in necessary."  Those who you intend to email must opt in to do so.  That's because spamming is now becoming frequent through texts, and because people pay for text capabilities, to spam them is considered fraud and enforceable by the federal trade commission.  So no matter how much it may be compelling for your to send a marketing text blast to families who "may be" interested in your school, don't do it.  You need their permission first.