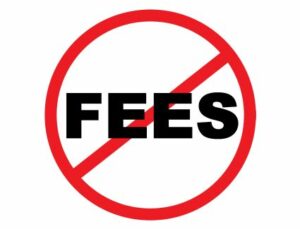 There's been a recent trend in faith-based and private schools lately which involves charging a "Development Fee" or a "Fundraising Fee" to parents who don't wish to take part in the school's fundraising events.  Doing so gives parents who have the ability to pay, or who don't have the time nor ability to participate to simply pay an amount of money and not sell cookie dough, use scrip or participate in other "sales" or "events" designed to generate necessary revenue for the operation of the school.
Schools have adopted this practice to rather than increase tuition to cover the cost of education, believing that tuition is what's driving parents away from faith-based schools.  Some schools even allow the fee to be paid over the amount of time that the parent is paying tuition.  For example, if the fee is $300, that would be an extra $30 a month for 10 months.
That's not so bad, right?  That's only a dollar per day.
Unfortunately, that may not be how the government sees it.
Be sure to discuss your fee structure with your school's accounting and/or auditing professional, especially since it regards taxation.  Any "earned" revenues that directly inure (that is, benefit) a family can be considered to be taxable income.  Why?  Parents are selling something, and then receiving a portion of those funds to help offset what they owe the school.  Think of it this way:  a sales professional makes a commission on a sale.  He doesn't keep a portion of the money earned.  The company he works for receives the sale amount, and then the sales professional gets a percentage of that as a commission or bonus income.  That's taxable income.
Further, if a school states there is a Development Fee, some parents may consider that to be tax-deductible since they hear the word "Development"associated with it, which usually is thought of as "a contribution" to the school, rather than part of the tuition.  Once again, if a fee is charged, that's not a "gift."  Even if it's optional, a fee is a fee.  Think of field trips.  Those fees are optional too, since if the fee isn't paid, the child doesn't go on the field trip.
How you come at this, and the words that you use, are very important.
Some organizations use the term, "points," rather than dollars.  Sell bucket of cookie dough, get two points.  Work an event, get 10 points.  It's important to note that there is no "monetary value" attached to the points, but parents can earn points toward a "desired point total" for every family.  The point (pardon the pun) is that participation is important, and not the dollars that can be used to reduce the monetary obligation due to the school.  Again, it's vitally important to review these practices with your tax and/or legal professional and to follow their advice on keeping your school on the right path regarding revenue.
That said, what about those families that want to make a contribution to the school, over and above the amount of tuition that they are charged?  They are more than welcome to do so, but must realize the tax implications if they're receiving need-based financial aid.  As a general rule of thumb, you may want to approach parents of alumni for contributions, as well as alumni, businesses, community members and your current donors, and use the funds that are generated through activities coordinated by your Development Director to provide financial aid for the parents currently in the school who are sacrificing to fulfill their tuition payment obligations.