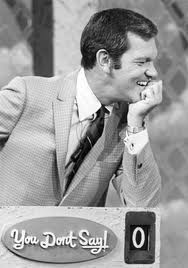 You may remember a game show from the 60's hosted by Tom Kennedy called, "You Don't Say." It's tag line was, "It's not what you say that counts, it's what you don't say." Communication experts also agree that non-verbal communication is more telling and compelling than the text of the message. In the field of tuition management, it's important to keep "what's not said" top of mind.
Certainly, if your school doesn't use a tuition management provider, using one could be considered a "next" practice. Why? Frankly, because there are too many things that need to be done to continue to handle tuition as it was done 20, 15 or even 10 years ago. Handling tuition internally or through a bank is one of those "That's the way we've always done it" processes which have the potential of driving a school toward closure rather than growth.
And with news stories of fraud and embezzlement that seem to strike unexpectedly, a school needs to mitigate the risks that come from collecting cash and checks.  While it's understood the temptation that cash can bring, you may be wondering why accepting checks at your you is a risk.  It's because a person's checking account numbers are printed at the bottom of a check.  Pair that with the person's name that's on the check, and you have Personally Identifiable Information, or PII.  And it's your responsibility to protect PII.  Otherwise, your school can become the subject of a lawsuit.  Yes, it's that serious.
However, if you're already using a provider, you may be asking yourself, "How can that be a 'Next Practice?'"
In the 17 years I've been working with schools, I've talked with those that have used a tuition management provider and those that haven't. A "Best Practice" is to use a tuition management provider simply because your school has a lot of important things to do – like seeking revenue from alumni, businesses, and community members, as well as engaging prospective parents with your school so that they will enroll their children to enable you to continue to carry out your school's mission. But since revenue is what pays the teachers and keeps the lights on, following up with parents that haven't fulfilled their payment obligations many times takes precedence, and therefore detracts from the other actions that will have long-term positive impact on your school. Using a tuition management provider to capture tuition, deposit it to your school's bank account, follow-up with families, provide real-time reports to your parents, administration and school board, offer customizable payment options that are able to be controlled by the school, and do it all in an environment that's secure and compliant is foundational to having time to do the other critically important things your school needs to do.
In the spirit of "Next Practices" though, it's not about "tuition management" anymore. It's about providing payment plans, and not simply capturing tuition, but fees too, so that your complete accounts receivables are monitored and accounted for. Moreover, with fund security and accountability top of mind today, the company you choose must be able to prove Level 1 PCI compliance as well as pass stringent audits such as SSAE18 and Sarbanes-Oxley to ensure the highest standards of financial security.  FACTS can do that.
As for what "You don't say," every company is going to say great things about themselves. For instance, why do I say great things about FACTS? Prior to my time with FACTS, I worked directly with 18 elementary and 2 secondary schools. Those which implemented FACTS as recommended are still serving parents today, providing safe and caring educational environments with a focus on faith while encouraging and demonstrating academic excellence. In reference to Financial Aid assessment, I switched from using a company that controlled the processing process to FACTS who processed information immediately, allowing me to control the process and admit additional students throughout the year.  Even before I worked for FACTS, I came to the conclusion that if you're not using FACTS, you are relinquishing some type of control to someone else, and I wasn't comfortable with that.  Perhaps you're not comfortable with relinquishing control either.
In the same way that "what they don't say" can be a differentiator among companies and other entities like banks or student management programs which provide these services, what happens "when they don't pay" can make a difference to your school's long-term vision, its current community of parents, and its financial bottom line.