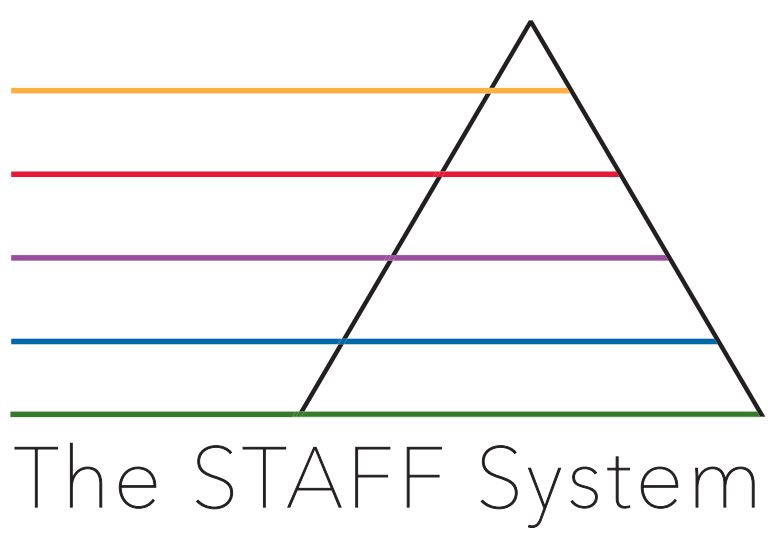 If you've been a follower of SchoolAdvancement, you know that one of its goals is to foster systems thinking as the way to think through problems to solutions.  As educators, we're trained by linear thinking (first/next) which evolves into process thinking (if/then).  Process thinking is the basis of all research, computer programming, and even Artificial Intelligence.
However, as individuals, we are not just individuals.  We are part of a system called society.  Even our bodies are not simply our bodies, but the body is a complex arrangement of systems, where a small issue with one component of one of the systems can have a detrimental effect on another entire system.
With that in mind, the ARMED Framework of SchoolAdvancement is just one of five systems at work in your school.   The other four are represented by the acronyms SIGNS, TEACH, FACTS and FAITH.
This new section of SchoolAdvancement will highlight these components for easy reference, as well as serve as an introduction to future projects.  The logo will be explained here too, since it relates to a linear alignment of the elements for SchoolAdvancement's ARMED Framework as well!
The first thing to remember is to start at the bottom and work your way up.  When you're building any type of structure, it's important to have a strong foundation.  It's not a stretch, then, to realize that the first row at the bottom is Asset Management.
The line is green – because it's the bottom line, and the bottom line isn't about money – it's how money is managed.  In an example from my family, I was asked to do some "forensic accounting" to help "figure out" why they didn't have enough money to do what they felt they needed to do.  After examining bank statements for a year, I said that there was about $6,000 per year that was just going to "cash" since it consisted of about 5 $100 withdrawals from an ATM per month.  The response: "No, that's not possible.  Yes we take that amount out, but $6,000 is a lot of money."
Frankly, it's simple math.  $500 per month…times 12 months…is…$6,000.   The lesson?  What you don't track, you lose.  It's important to track tuition, as well as use financial aid funds and scholarships strategically.
In the business world, FTE stands for Full Time Equivalent, and their utilization is necessary to see how many employees are working full-time and part-time to make for effective budget planning.  Similarly, in schools, much discussion has happened over the past 30 years or so about the rising cost of tuition, as well as tuition setting strategies.  Cost-based tuition has been inferred to mean that tuition is going to be equivalent to the cost of education, when, in reality, it needs to be MORE than the cost of education.
In the life of the tuition-charging school, FTE can stand for Full Tuition Equivalents, and RPS can mean Revenue Per Student.
These are important figures.
Knowing what they represent can help in the enrollment planning process, and take into consideration what resources need to be utilized in order to enroll students whose parents will be able to meet their payment obligations which are aligned with their current financial need.
As you can see, there's a LOT that gets packed into building and managing the financial foundation of the school.  To start at some other level is simply a recipe for eventual disaster to strike.
The next level up is Retention, which is the blue line.  This is a reference to ice hockey, where members of one team need to be on one side of it before the offense can move to score a goal.  The importance of keeping as many students as you can from year to year is usually considered a given, but in these days of economic uncertainty, it's more important than ever to have good retention strategies in place.
The next level is Marketing, indicated by a purple line.  This is a nod to Stan Phelps and "Purple Goldfish," as well as Seth Godin's "Purple Cow."  Both of these marketing texts stress the importance of being unique, since if a customer cannot differentiate you from your competition, the entity with the lowest price wins.  In tuition charging schools, that's also a recipe for disaster.
Further, marketing relies on retention, just as it sits on retention in this model, because positive word of mouth marketing from current parents provide the most effective and least expensive marketing strategy a school can have.
The next level up is Enrollment, since good marketing leads to a significant number of inquiries, and the way those inquiries are managed and shepherded will lead schools to growth in enrollment.  In this treatment, enrollment is considered to be applied to students currently "not enrolled" in the school.
In some school settings, this is termed as "Admissions" while Enrollment refers to both the number of new and returning students.
It's for this reason, however, that Enrollment is represented by a red line, since there will come a point where an optimum enrollment is achieved, and a waiting list needs to be started.  It's just like the red line on a car's tachometer.  Rev the engine too high over the red line, and it will eventually burn out.  Similarly, if the school exceeds it's optimum number of students, the quality of education will start to deteriorate.
The capstone is Development, which is the seeking of outside sources for funds.  Many schools begin at this level, primarily because administrators and board members believe it's all about the money.  If it is, however, isn't it interesting that the money is represented at the bottom line.
This line isn't yellow – it's gold – a combination of yellow and orange, because this is where alumni, businesses, community members and other donors need to be continually engaged to support the school with their time, talent and treasure.  A school cannot be supported only on the funds that come from tuition from enrolled families, especially if there is significant financial need in the school.
Try and do this first, and it's like building the roof of a house before the walls are up.